Quotations
As sales quotes are an integral part of the successful sales process, New G Solution allows you to create sales quotations to state your services and prices of your goods and products.
Understand your customers' needs and give them options by creating custom sales quotations that meet their requirements and enable them to appreciate your services.
Send your sales quotes to many customers and grow your business by generating happy and loyal customers.
Order process
Have your sales orders automated with New G Solution and control the entire process of sales order workflow, follow every stage of the order (which is creation – ready for fulfillment – shipped – closed) to make sure you fulfilled your orders on time and nothing is lost in transition.
Return orders
When you have many e-commerce sales channels and sell products online, returns may be much higher because customers cannot feel and touch the products. Due to this, you need efficient reorder management software that can support return orders and update your e-commerce channels.
As returns management is a vital part of your e-commerce process, New G Solution automates your stock returns and streamlines the operations related to return orders, avoiding customer dissatisfaction.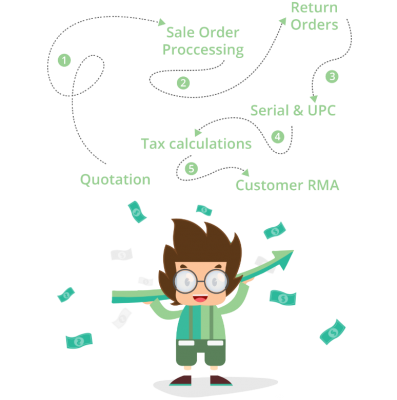 Serial & UPC
Fed up with remembering the names of products? Don't worry!
Leave that to us, just assign unique serial numbers for your products, or by UPC code, and then New G Solution lets you follow your products and access all details instantly.
Just scan the product or enter its serial number to create orders and track all of your products precisely.
Tax calculator and tax rate
Because getting tax calculation is an important part of your orders and returns process, our system offers you a simple way to get your taxes calculated with no fear of changing tax rates and rules.
Thanks to our integration with Avalara tax calculator, we can offer you through them state-specific sales tax rate details for your orders and return orders. Simply enter your U.S. address or your customer's U.S. address and get the tax rate per product and customer (according to being subject to tax).
Customer RMA
A return merchandise authorization (RMA) is a part of return management. After a return, the product goes through a new life cycle.
Our skillful software is equipped to handle all the cases of returning a product which are:
Approved: the products are returned to your storage in order to return them to the supplier.
Refunded: the customer returned the products to you and received a refund.
Rejected: the system marks the return products as rejected.