UPS Inventory Management Integration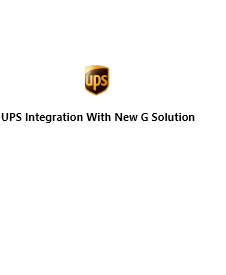 UPS is one of the first American companies for shipping, package delivery, and supply chain management, and it has become one of the most prominent brands in the world. It is a perfect solution to integrate your UPS account with New G Solution to get an entirely automated shipping process.
Features of Integration With UPS
You will feel peace of mind by automating the shipping process. Observe shipment size and weight restrictions, prohibited items, International Shipping Restrictions, and more can all be found with our features:
Just click and ship
In just a few clicks with a simple and easy-to-use interface, you will generate shipping labels for your orders and allow you to ship the package fast and easily.
UPS Shipping Rate
Choose the suitable service for your shipment and get all the information of shipping rates like costs, fees, estimated time and other shipping factors.
Compare rates
Get all the shipping options, check the pricing, and select the option that works with your shipment using our integration.
Generate shipping labels
Create and print shipping labels instantly, and make your orders ready for shipping and fulfillment.
Order tracking
The detailed tracking info of the packages will be sent immediately for you to track your order instantly. As soon as the system generates the tracking number for your order, you will receive the tracking number.
Try New G Solutions Commerce for yourself completely free for 14 days