Best Barcode Scanner For Inventory Management In 2023
Small Business

LAST UPDATE: JUL 5, 2022

6 minutes reading
Successful inventory management lies in effective inventory tracking and accurate knowledge of inventory levels. To achieve this, you will need a simple tool that prevents errors in your inventory records. Since there are many versatile barcode scanners on the market, you will have a great deal of flexibility to choose the one that best suits your company.
Here are the best barcode scanners you can buy right now for you and your business to rely on.
Types Of Barcode Scanners
Laser
This is the most well-known scanner type. It uses a red diode laser to read the reflectance of the black and white spaces in a barcode (also the most cost-effective option).
Linear Imager
Linear imagers only read 1D barcodes, like laser scanners, but they take a picture of the barcode, then analyze the image information from the code.
Full 2D Imager
Full 2D imagers also capture an image to analyze, like linear imagers.
Furthermore, they can read any type of barcode:1D, stacked, and 2D barcodes. They can also read barcodes off of any surface, and in any direction.
Best Wireless Barcode Scanner 
NADAMOO Wireless Barcode Scanner
The NADAMOO Wireless Barcode Scanner has both USB wired and wireless connections making it has one of the longest wireless ranges for barcode scanners (up to 100 meters). 
This scanner supports a wide range of barcodes like UPS, USPS, FedEx, DHL, and many more. Its capabilities of decoding are compatible with everything from UPC/EAN to IBSN and ISSN. Also, it has a simple installation that only requires plugging it into the USB port of your computer, and it seamlessly uploads your scans into programs such as Microsoft Excel and Word.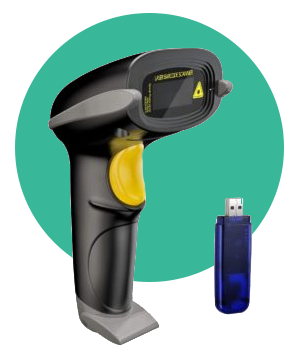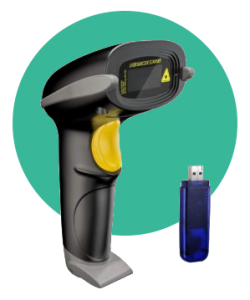 Pros: 
2 pairing mode

It saves up to 100,000 barcodes on its internal memory in offline mode

Very suitable in cases where multiple people are scanning simultaneously
Cons:
Price:
Starting from $34.99
NADAMOO Mini Wireless Barcode Scanner
This mini Wireless Barcode Scanner is a pretty handheld design for the long haul. It weighs about five ounces with 4 .7 x 1.8 x 0.8 inches which make it safe to drop from about five or six feet.
This mini scanner was built with a 1200mAh rechargeable battery that can provide roughly 20 hours of constant scanning. 
with a long-distance signal communication, delivering up to 50m /164ft transmission distance in the barrier-free environments.
It supports reading linear barcodes directly from a Computer Screen and mobile phone and is easily connected with your laptop, PC, mobile phone, tablet, iphone, ipad, POS.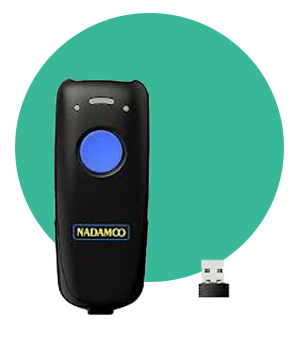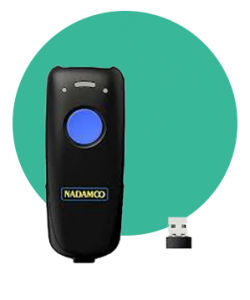 Pros: 
3-in-1 Connection Design: Bluetooth, 2.4 GHz Wi-Fi, or through USB adapter.

Compatible with Android, Windows Mobile, iOS.

Work with Windows XP/7/8/10, Mac OS, And even for older versions like Windows XP.

Two upload modes: Instant upload mode, and Storage mode to store barcodes in the built-in storage and upload them later in a batch.

3 scanning mode: Key trigger mode, Auto-sensing mode, and Continuous Mode.

Internal storage can save up to 100000 barcodes.
Cons:
 Incompatible with Square.

Can't read 2D barcodes.
Price:
Starting from $46.99.
LS-PRO Wireless Barcode Scanner
Another wireless option that comes with USB Cradle Receiver Charging Base, 2.4GHz Handheld which can scan Barcodes into any software programs like Word, Excel, Notepad, Novell, and QuickBooks.
It is also compatible with 99.99% of the 1D barcodes: UPC-A, UPC-E, EAN-13, EAN-8, ISBN/ISSN code 39, Codabar, Interleave 25, Industrial 25, Matrix 25 Code 128Code 93, Code 11, MSI/PIESSEY, UK/PLESSEY, UCC/EAN128, FedEx, UPS, USPS, etc.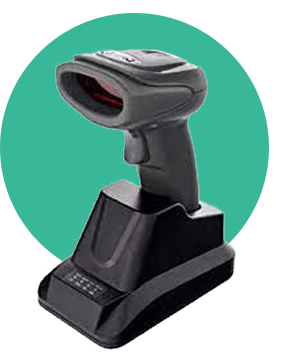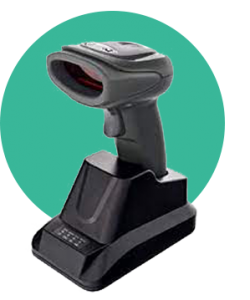 Pros: 
 

long-distance wireless transmission of up to 150 feet.

Compatible with Windows, Mac, or Linux operating systems.

long-life, built-in rechargeable 2200mAh Li-Ion Lithium battery, standby of more than half a year if fully charged.

Two working modes: Instant upload mode, and storage mode.

Internal offline storage supports up to 100,000 barcodes in offline storage mode.
Cons:
Cannot read 2D or QR codes
Best USB Barcode Scanner
Symcode USB Automatic Barcode Scanner
This barcode scanner has a sleek and stylish design. It's capable of scanning 100 scans per second with great decode capability ranging from Code11, Coda Bar, UPC, EAN-13 and more.
Pros: 
Simple installation process once plugged in.

Compatible with Windows, Mac and Linux operating systems

ideal for harsher conditions, that it's shockproof from up to a 1.5-meter drop.
Cons:
Slightly pricier than similar models.

Brainydeal USB Automatic Barcode Scanner
Due to its ease of use and practical design, the Brainydeal USB Automatic Barcode Scanner is a great barcode scanner that is able to read everything from Code11 and Code128 to UPC-A, EAN-13, and more.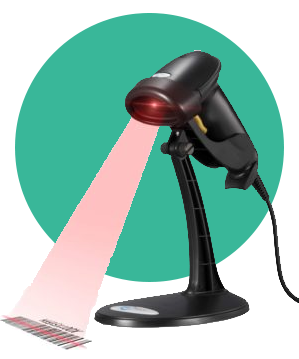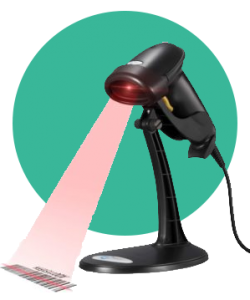 Pros:
Comes with an easy installation guide

Very affordable price, beautiful look

Scanning with a scan rate of up to 100 scans per second

2 scanning modes, 2 upload modes
Cons:
No wireless functionality

 WoneNice USB Laser Barcode Scanner Wired Handheld
This scanner offers you user-friendly barcode scanning and a low-cost budget model while maintaining very good quality. It is lightweight and has no need for any app or software installation. Moreover, it can read and decode several codes like Code11, Code32, Code39, Code93, Code128, Coda Bar, UPC-A, UPC-E, EAN-8, EAN-13, and more.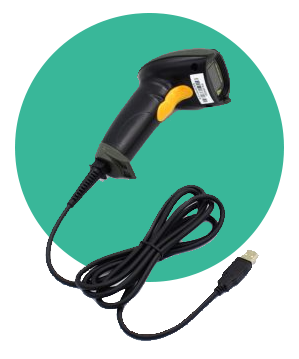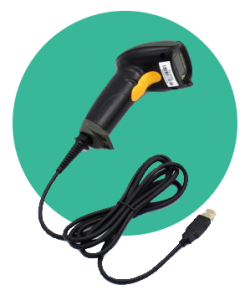 Pros:
Handles up to 200 scans per second

Anti-shock construction
Cons:
Wireless connectivity is not available
Best Bluetooth Barcode Scanner
TaoTronics Bluetooth & Wired Barcode Scanner
This scanner has a 2-in-1 design that allows for a wired connection or wireless Bluetooth connectivity making it capable of transmitting data from up to 130 feet away. You can save up to 200,000 entries if you are not connected to a computer because of an internal 16MB built-in-storage. Its battery can recharge in just 90 minutes. It also supports several operating systems including Windows, Mac, Linux, and software programs like Word, Excel, Novell, and QuickBooks.
Furthermore, it's compatible with 99 percent of all barcode types like UPC/EAN, ISBN, ISSN, Code39, Coda Bar, and more.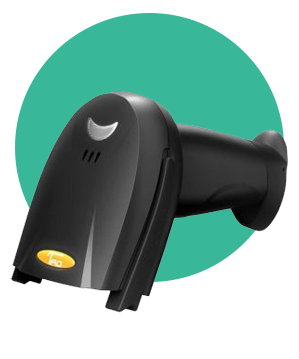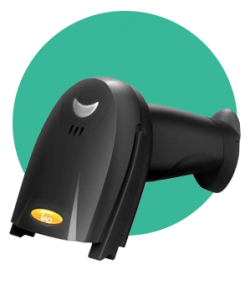 Pros:
2-in-1 connectivity

Battery life of up to 30 hours

Fast scanning speed
Cons:
Does not read matrix codes

Higher price compared to some other models
NETUM Bluetooth Barcode Scanner
This barcode scanner connects with Bluetooth-enabled computers, smartphones, and tablets.
Its Bluetooth transmission ranges from 10m/33ft to 50m/164ft, while wireless transmission can reach up to 100m/330ft when there are no obstacles.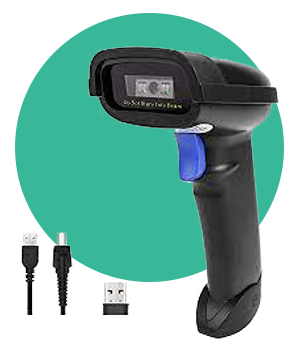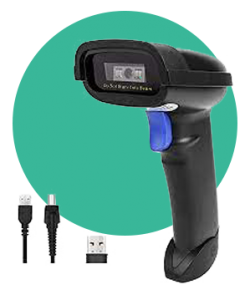 Pros:
2000mAh battery squeeze up to 30 hours of continuous scanning

Easily recharge in only 2 hours

Works with computer, smartphone, tablet, and mobile PDA

Compatible with Mac OS X, Windows 10, Android, and iPad IOS 9.

Supports HID and SPP mode.

Best for warehouses
Cons:
It does not work with square POS
Price: 
$34.99
Tera Pro Fully Upgraded Wireless 2D QR Barcode Scanner
This barcode scanner from Tera Pro has an extreme performance, and it is a great choice for warehouses, supermarkets, retail industry, banks, etc.
It is a 3 in 1 model that allows for Bluetooth & 2.4GHz Wireless & USB Wired.
It supports Digital and Printed 1D 2D Code like:
1D: Codabar, Code 11, Code93, MSI, Code 128, UCC/EAN-128, Code 39, EAN-8, EAN-13, UPC-A, ISBN, Industrial 25, Interleaved 25, Standard25, Matrix.
2D: QR, DataMatrix, PDF417, Aztec, Hanxin, Micro PDF417.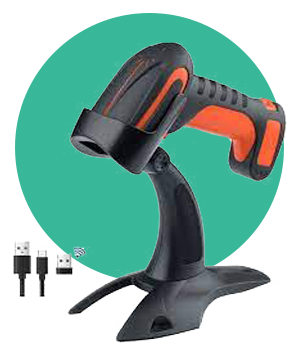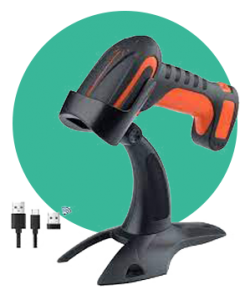 Pros:
Shockproof Silicone Design

Large 2000mAh Battery, 60 Days Standby

Works with almost all common software programs like Word, Excel, Notepad, Novell, and QuickBooks
Cons:
Slightly complicated to get to work
Price:
Starting from $65.99
Best Overall Barcode Scanner:
Zebra Ds2208-series Sr Corded Handheld
From the most highly rated brands for barcode scanners, Zebra offered this scanner with premium features including a lightweight design and comes ready-to-use right out of the box. Most importantly, it is capable of reading both 1D and 2D barcodes. It also offers Omni-directional scanning so users can scan barcodes from any angle. It is suitable for every industry, making it the best overall scanner.
Pros:
Easy to use

General-purpose use

Includes a 12-month warranty
Cons:
How To Choose A Barcode Scanner?
To find the right scanner for your needs, you have to identify your own specific needs, some may need a more portable product, while others might prefer a more durable product.
Beginning your journey of choosing the best suited barcode scanner depends on many factors like:
Connectivity
Barcode scanners come in the wired or wireless form and may use Bluetooth technology that can work along with mobile devices like tablets and iOS or Android devices.
Software
Most barcode readers today don't require any specific software. Just plug the scanner cable into the computer and, voila, everything is running.
You only have to make sure it is compatible with your inventory management software.
There are other factors to consider when choosing the best barcode scanners, including Hardware, Portability, price, type, size, customer reviews, and more.
New G Solution & Choosing the Right Inventory Management Software 
New G Solution will boost your business by providing an abundance of services and features including inventory management, order tracking, shipping, sales channels, and other business needs.
New G Solution simplifies your purchases and sales and makes order picking easy and efficient by supporting barcodes and using barcode scanners.
Take a look at our features here.
Contact us today and get your free trial.