3PL full guide: What Is Third Party Logistics? Definition, Types, Advantages

LAST UPDATE: JUN 24, 2022

3 minutes reading
As your business grows, you may encounter many challenges related with an increased customer base, increased order volume, new locations to store new quantities of inventory, and other factors. For some businesses, they may find that meeting these challenges in-house is no longer feasible.
At this stage, many companies find that it's a better choice to look outside their walls, and expand their strategy to deliver the enhanced logistic functions that they need to continue growing. This is where 3PL comes in to play.
It's vital to understand how 3PLs work, as a business owner, the more you understand about 3PLs, the more easier to make the right decisions in order to grow and scale your company.
What Is Third-Party Logistics?
3PL, or third-party logistics, is basically a variety of outsourced logistics services and processes that are provided for businesses by an external company.
3PL services are used based on the needs of the business, for example, improve efficiencies, reduce costs, and expand capabilities.
3PLs can best meet your specific needs, and allow you to focus on other parts of your business to enhance your operational, financial performance, which, in turn, makes your customers happy, and gives you the key of success to grow your business in the eCommerce world.
Third-party logistics companies provide a single service or bundle of services for all the logistics of the supply chain.
These services include:
Transportation
Warehousing
Order fulfillment
Picking and packing
Inventory management
Inventory forecasting
Shipping and receiving
Freight forwarding
Reverse logistics (returns)
What Are The Different Types Of Third-Party Logistics Services?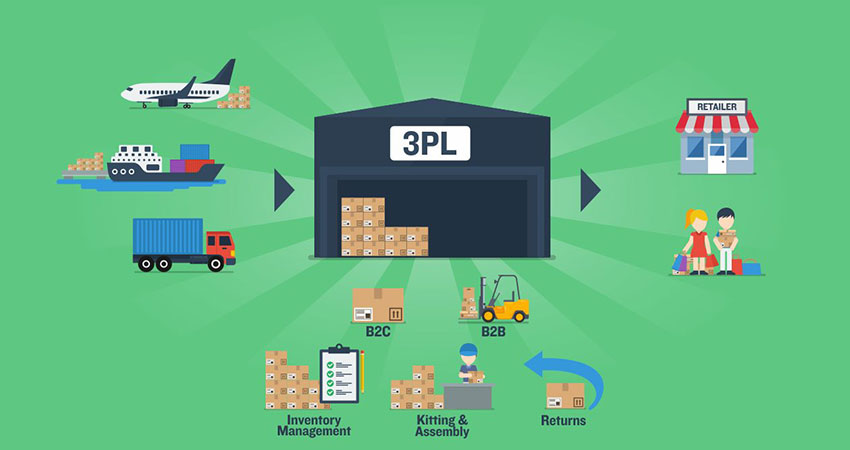 Being familiar with the different types of 3PL providers gives you insights about which the best service provider that suits your business needs.
There are many ways to categorize third-party logistics services, most 3PLs provide a wide range of services, some 3PL service providers specialize in one or two sectors, such as warehousing and distribution needs, other 3PL companies categorized on what kind of logistical service they can provide, a single 3PL provider can be in one or many of these categories. here are five categories of 3PL providers:
1- Transportation-Based 3PL
Transportation-based 3PLs focus on transporting products from one location to another, whether shipping inventory from your suppliers to your warehouse, or delivering orders between your company and your customers, for example, FedEx, UPS, and DHL carriers are considered as transportation 3PLs. Small package shippers and freight forwarders are also among them.
See our integration with UPS and FedEx here.
Transportation-based 3PLs may use assets of the parent firm or assets of other firms.
2- Warehouse/Distribution-Based 3PL
This is the most common type of 3PL provider, they offer basic logistics services and fulfillment services such as storage, pick and pack, warehousing, distribution, shipment, returns and reverse logistics.
Most of these 3PLs manage your inventory and transportation, and determine which shipper to use, and optimizing the shipping strategy on behalf of you.
3- Forwarder Based 3PL
Freight forwarders are independent intermediaries who oversee transportation process of products from the first shipping location to the final location, including negotiating the transport of freight and arranging small shipments.
4- Management Based 3PL
They take over complete control of the company's logistics activities and manage your supply chain from beginning to end, they improve the logistics dramatically using technology to manage transportation and freight.
They also negotiate with carriers for maintaining ongoing rate. Moreover, they provide insights, such as real-time shipping information, and reports to improve operational efficiencies and gain better control of future logistics outcomes.
companies can choose the level of support they need, whether it's a part or full logistics outsource in accordance with company's needs.
5- Financial/Information-Based 3PL
These 3PLs focus on the financial aspect of supply chain processes and optimize your company's logistics network through providing services like freight payment, cost accounting and control, and auditing services. They also provide services for monitoring, booking, replenishing, tracking, and managing inventory.
3PL Order Fulfillment Process
This what happens in a 3PL fulfillment center when you use 3rd-party logistics:
Receiving
When you outsource a 3PL company for your fulfillment, the first step is when the 3PL company receives your inventory, then ship your products directly from the factory to the 3PL warehouse.
Each 3PL provider has its own processes and operations receiving and storing inventory.
Warehousing
As soon as your inventory shipped and received by 3PL warehouse, the products then stored in the fulfillment center, each item will be given a stock keeping unit (SKU) number ( which is an alphanumeric code used to locate an item in a warehouse easily) and stored in a separate dedicated storage location, either in a bin, shelf, or on a pallet.
Different 3PLs have different storage capacities, it is important to consider the 3PLs capacity for your goods, and work with a 3PL that has enough storage space with the ability to scale with your inventory and your growing order volume.
Moreover, make sure that the 3PL center can accommodate goods that have special storage requirements, for example, refrigeration or temperature-controlled.
Picking
When your customer places an order from your store, the 3PL fulfillment process begins. the warehouse picking team receive a picking list of the items which includes SKU numbers, quantities, and storage location to collect them from their specific locations.
3PLs have different processes of receiving orders, some 3PLs require you to manually send orders to their system.
Packing
Once all the items in an order are picked out, they are securely packed for shipping with standard packing materials, the most common ones include Unbranded boxes, bubble mailers, bubble wrap, poly bags, packing tape, or other common packaging materials.
Indeed, the packing materials used by 3PL provider depends on your preferences as a brand, your products that being shipped, and your 3PLs capabilities which is important to impress customers and help your brand stand out.
Some 3PL companies will charge separately for packaging materials, while others include them as a part of their fulfillment services.
When the order is packaged, experienced 3PL will choose the lowest practical dimensional weight, in order to optimize packages with no need to split shipments.
On top of that, determining the shipping rate is heavily considered depending on dimensional weight and the use of right packaging materials so they save on overall costs and keep logistics costs low.
Shipping
The next step after the order is packed is shipping your order. Most 3PLs will prepare the package for delivery by purchasing and printing shipping labels on your behalf. Some 3PL providers will compare shipping costs from different carriers in order to offer clients the most affordable shipping rate possible for the delivery speed that each customer chooses. Other 3PLs deal with preferred carrier partners.
Carriers such as FedEx, UPS, and DHL pick up orders from the fulfillment warehouses to ship, and delivers it to your customer.
At the same time, they send tracking details to eCommerce online stores.
Advantages Of 3PL
Optimize Supply Chain Operations
3PLs will make your supply chain a responsive, cost-effective model. They can offer better performance on shipping by fulfilling your orders quickly and efficiently, as well as protecting your products, optimizing packaging to avoid split shipments, and even purchase and print shipping labels on your behalf.
Additionally, they can help save on inventory holding costs and optimize its levels while providing industry forecasting that makes you aware of supply chain mistakes.
Flexibility
A 3PL logistics offers you better performance in facing the challenges of rapidly growing markets, changing conditions, or fluctuations in demand throughout the year. For example, 3PL companies can scale up services to meet high demand needs, then go back to normal levels.
Customer Satisfaction
As your business grows, you will need to expand your customer order fulfillment strategy. In this case, a 3PL provider will offer you faster shipping and more reliable delivery times to generate happy and loyal customers.
Get A Handle On Global Transportation Logistics
Expand your reach and let the 3PL take control of stressful global shipping logistics like documentation, customs, freight forwarding, and other issues of global shipping.
Gain Expertise And Knowledge
When it comes to supply chain logistics, it can be complex. 3PLs can give insight into issues that can come up during the fulfillment, warehousing, or shipping process. Also, 3PL experts can impart clients with their experience and make them up-to-date with the latest industry trends and complexities.
Save costs, time and money
3PL companies offer solutions for managing inventory, packaging, and shipping with the most affordable pricing. as well as providing a real-time visibility to your inventory as it is in motion.
By outsourcing fulfillment tasks to a 3PL, there is no need for more warehouse space, technology, labor, and staff to monitor supply chain operations. in turn, it allows you to focus on your core competencies saving your capital and time.
 Disadvantages Of 3PL
· Lack Of Control
When you outsource your services, you will lose direct supervision over the delivery process. As a result, if there were problems in shipping a customer's order, the customer will blame your company, not your 3PL.
· Cost Inefficiency For Smaller Operations
If you don't need more warehouse places or more staff to carry out logistics processes or don't have many orders, 3PL services are not a suitable solution.
What's The Best 3PL For Your Company?
Because of the countless 3PL options to choose from, how can you know a suitable choice?
Here are some points to consider when you choose a 3PL partner:
Business Volumes
You need to choose a 3PL that can handle your business volume and can deal with increasing or decreasing operations of your business.
References And Business Performance
Get reports about the company's performance over the last few years and see references from the current customers that invest with the 3PLs.
Additionally, pay attention to on-time deliveries versus delays, and how they handle problems. Check out their relationships with the customers and how they maintain them.
Technology
Look at your business technologies and choose the compatible 3PL company that is cutting-edge and similar to your business.
Conclusion
Even if you are a small or big company, outsourcing third-party logistics services is a great way to gain the expertise needed to carry out supply chain logistics efficiently.
When you partner with pros on fulfillment process, it will lead to more positive reviews and loyal customers which can boost your business growth, and customer satisfaction.