Benefits of POS Systems with eCommerce Integration

LAST UPDATE: OCT 3, 2022

4 minutes reading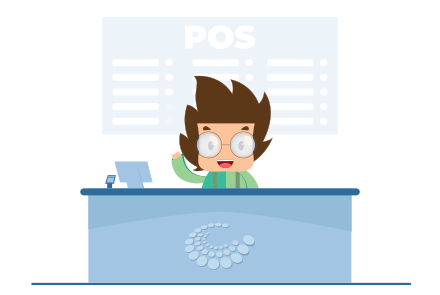 Operating your POS system separately from your eCommerce system require an extra manual effort to keep everything synchronized.
eCommerce POS integration is vital aspect due to the ability of creating a bridge between both main business channels which are the offline POS system and online eCommerce platform.
the integration will help save you time and effort that enables you to boost your business processes and simplify all its operations, in order to allow customers to have the exact same a consistent shopping experience regardless of where they purchase.
This is where eCommerce platform with POS integration comes into play, and gives you the opportunity that you need to make sure your systems are well integrated, and provide seamless experiences for your shoppers.
Here are the advantages of POS system integration with eCommerce platform:
Having an up-to-date Inventory
As streamlining inventory management via different channels is crucial to any business. integrating the eCommerce with POS system enables to have updated Inventory levels in real time across online and offline channels, as well as avoid overselling and overstock situations.
It also helps you automate processes of inventory management such as tracking inventory levels, transferring stock between warehouses and stores, setting Reorder points and auto-replenishment orders.
Eliminate manual data entry
Another great added value of integrating your POS system with your eCommerce website is eliminating manual data entry. there is no need to synchronize in-store and online orders information, the Integration will enable you to manage and update the information of customers, orders, and products in one place automatically. This well save you a significant portion of time and headache so you can focus on your business growth.
Cross-Channel Promotions & Customer Incentives
By having POS and eCommerce systems integrated, you will be able seamlessly to offer promotions, discounts, and coupons across online and offline channels, you can also develop loyalty programs, gift cards, for both online and offline purchases.
eCommerce POS system integration takes your business a step further.
Indeed, it enables you to boost sales and revenue as well as expanding your customer base and encouraging them to shop across all your channels.
It also offers you different strategies to streamline loyalty program and increase customer shopping experience. you will be able to easily let your customers know that you offer a discount next time they visit your store by sending them an email message, give a coupon to visitors who bought items at your store, suggest promotions and apply discounts when checkout on POS and webstore, use accumulated loyalty points for orders across online and offline channels, and more.
Improve customer experience
More than ever, successful business depends on excellent customer service and how to keep them happy and satisfied.
Integrated eCommerce POS solutions connects your POS system to your online store to boost customer experience providing them with special offers and the targeted discounts.
On top of this, having both systems integrated seamlessly offers different payment ways with POS software, makes online ordering easy, and even integrates loyalty programs.
This integration will address various business needs in real time and make the personalization that customers have come to expect.
Faster Shipping and order fulfillment
Manually processing orders by employees may result in a natural delay throughout the order fulfillment journey, from placing the order by the customer till it is fulfilled.
However, customers nowadays prefer fast and easy shopping experience, and expect delivery for order within hours or at the same day.
Having an integrated eCommerce POS solution will boost the customer's buying experience due to allowing you to speedily operate order processing and shipping.
Thanks to eCommerce integration with POS system your employees wouldn't need to manually make updates on product details at brick-and-mortar stores when it is updated on your eCommerce product catalog.
Using integrated eCommerce POS solution enables you to provide customers with all kinds of developments and product updates easily, and resolve their queries quickly and accurately which make a great impact on customer experience and satisfaction.
In addition, Integrating POS with eCommerce solutions let you centralize all your customer information in one place, and provide you more precise insights to understand customer behavior, preferences, and shopping habits across different channels. Hence, you will be able to make tailored recommendations and personalized approaches based on purchase history, run cross-channel promotions, and develop loyalty programs, coupons, discounts, and gift cards more effectively.
In turn, it will offer a consistent experience for your customers and improve customer relationships management (CRM).
Sell more in different places at the same time
the secret of successful business is to be in place where your customers are. With the help of eCommerce integration with your Point of Sale (POS) system you will be in multiple places at once, and gain a holistic view of your customers across your offline and online channels which, in turn, expand your business and boost your revenue and expand your customer base.
see also: Retail POS system vs. eCommerce platform