Shipping Boxes: A Guide for Online Businesses

LAST UPDATE: MAY 17, 2023

7 minutes reading
If you run an online business, you know how important it is to ship your products safely and efficiently to your customers. But with so many options available, how do you choose the right shipping boxes for your needs? In this blog post, we will provide some tips and advice on how to select and use shipping boxes for your online business.
What Are Shipping Boxes?
Shipping boxes are cardboard containers that are designed to protect and transport goods from one place to another. They come in various shapes, sizes, colors, and materials, depending on the type and quantity of items you want to ship. Shipping boxes can be purchased from various sources, such as online retailers, office supply stores, or packaging suppliers.
Why Do You Need Shipping Boxes?
Shipping boxes are essential for any online business that sells physical products. They help you to:
Protect your products from damage during transit.
Present a professional image of your brand.
Save money on shipping costs by choosing the right size and weight.
Reduce waste and environmental impact by using recyclable or biodegradable materials.
How Do You Choose the Right Shipping Boxes?
There are several factors to consider when choosing shipping boxes for your online business. Here are some of them:
The size of your products: You want to choose a box that fits your products snugly, without leaving too much space or causing them to move around. This will prevent damage and reduce the amount of packing material needed. You can use a carton sizer tool or measure your products manually to find the right box dimensions.
The weight of your products: You want to choose a box that can support the weight of your products without collapsing or tearing. This will ensure durability and safety during transit. You can check the Edge Crush Test (ECT) rating or burst strength rating of a box to determine its strength. The higher the rating, the stronger the box.
The type of your products: You want to choose a box that suits the type of products you sell. For example, if you sell fragile items such as glassware or electronics, you may want to use specialty boxes that have extra padding or insulation. If you sell wine bottles or other liquids, you may want to use wine shippers that have dividers or inserts. If you sell artwork or prints, you may want to use artwork shippers that have rigid corners or flaps.
The style of your brand: You want to choose a box that reflects your brand identity and personality. For example, if you sell eco-friendly products, you may want to use brown kraft boxes that are made from recycled materials. If you sell premium products, you may want to use white glossy boxes that have a sleek appearance. You can also customize your boxes with logos, stickers, or labels.
How Do You Use Shipping Boxes?
Once you have chosen the right shipping boxes for your online business, here are some steps on how to use them effectively:
Pack your products securely: Use appropriate packing materials such as bubble wrap, foam peanuts, or paper fillers to cushion and protect your products inside the box. Make sure there is no space left in the box and tape it shut with strong packing tape.
Label your packages clearly: Use clear and legible labels.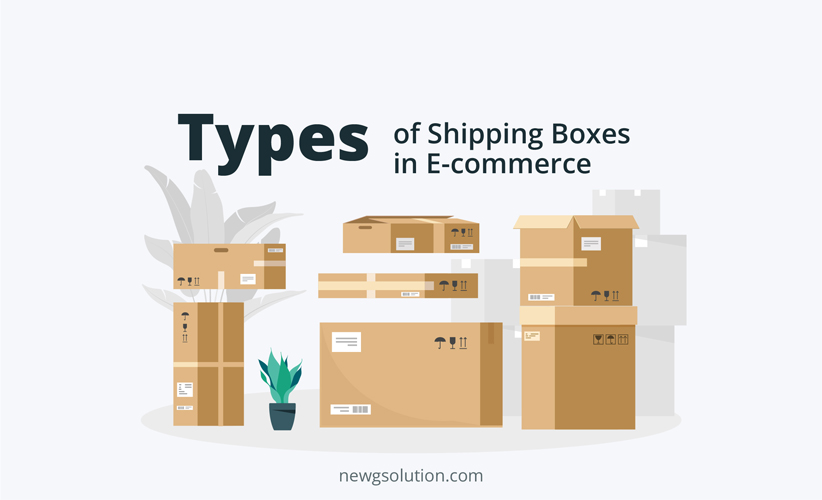 7 Types of Shipping Boxes in E-commerce
To assist you, we've produced a list of shipping boxes used in eCommerce, complete with the features and specifications you should consider when selecting the custom ecommerce packaging for your products. Below are the seven most common types of shipping boxes used in ecommerce.
Corrugated Boxes
A corrugated box is capable of so much more than first meets the eye. Many different kinds of prefabricated boxes are available; they are strong, can support moderate to high loads, and have some padding thanks to the flat liner boards that enclose them. Corrugated cardboard and paperboard are the main materials for these packing containers.
Regular Slotted Boxes
Shipping boxes of the standard slotted container (RSC) variety are constructed with sturdiness and longevity in mind. For shipping purposes, this is one of the most popular box types. All of the RSCs' flaps are the same length, and the two outer flaps for packaging are half the container's width so that they meet in the middle.
Full Overlap Boxes
Flaps on this style of the shipping container are uniform in length, completely sealing off the box's opening. Shipping containers get an extra boost in durability thanks to the flaps' clever design. But, when the package is closed, the outside flaps overlap. This sort of box has an extra thick bottom to further cushion whatever is inside and offer more protection for your products. Stunning artwork or designs can be printed right onto the box. The product image, for instance, can be printed and used in a presentation.
Roll End Lock Front Boxes
Little, round flaps on the Roll End Lock Front (RELF) box's lid offer a locking mechanism and tuck neatly into the front of the main body. The lid can't accidentally pop open during shipping thanks to the front flaps, which also add extra protection for the contents. For shipping heavier items, as well as larger quantities of lighter items like cosmetics and food, RELF boxes are the best option because of their durability and security.
Roll End Tuck Top Boxes
The RETT box's top folds down and tucks into the bottom, making it easy to open and close. This form of the shipping container has a lid attached to the front panel by a locking flap that slides between the two side panels. Because of its lightweight construction, the RETT box is an economical option for online retailers. Nevertheless, the RETT does not come with locking flaps, so additional tape will be needed to keep the box shut.
Chipboard Boxes
We see a significant increase in the need for trustworthy and environmentally friendly custom ecommerce packaging in the coming year as the Indian e-commerce market reaches new heights. Most of your business owners are probably rethinking your approach to shipping boxes to maximize efficiency without breaking the bank. Delivering medicines, food packages, presents, cosmetics, and products for shelf storage, the Chipboard shipping box is a great, low-cost option for online retailers.
Auto Bottom Lock Boxes
An automatic bottom lock box is your best bet if you need unique boxes with different bottoms. It contains bottom flaps that are pre-glued so that you don't have to manually tuck them in, and they may be fastened by hand without the need for tape or glue. It's perfect for ingeniously protecting fragile goods, and it's easy to use. Auto bottom lock boxes can handle the transport of big items thanks to their glued foundation
In Conclusion,
When looking for packing materials, the first step is to go online and do some research, followed by placing an order. You may see the e-commerce packaging boxes and their quality of construction on other websites. You can spend less time looking at other possibilities and more time choosing the one you want to buy.
Like with any business decision, the sort of shipping box that is best for your e-commerce company will rely on your particular needs, as well as your budget and personal tastes.