Omni Channel and Multichannel What Is the Difference?

LAST UPDATE: JUL 27, 2022

5 minutes reading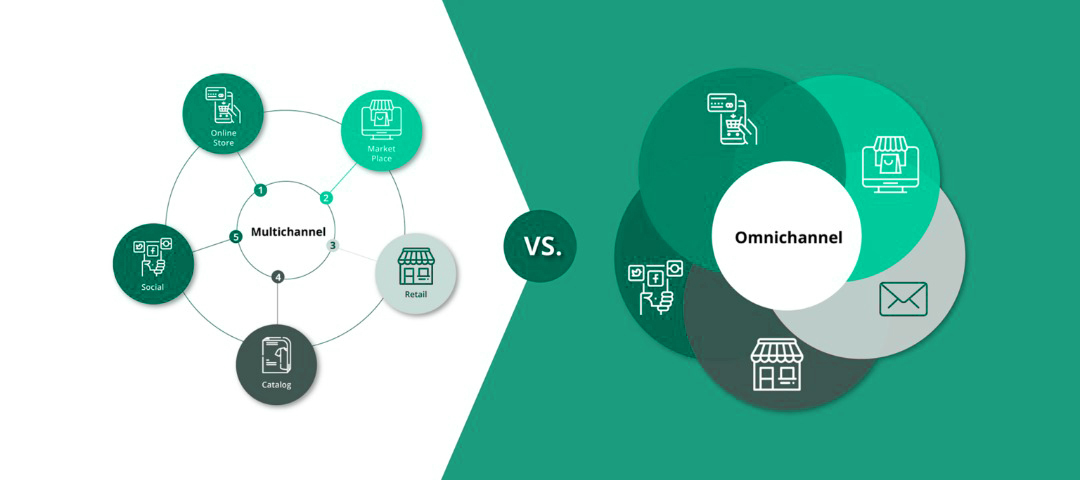 In the marketing world where many companies are selling their online products through commercial stores, marketplaces, and physical storefronts with lots of options available to shopping buyers, due to online shopping provides time and effort to clients, besides the possibility of comparing one product prices through other electronic stores.
In this situation, the most popular buzzwords you will come across are omnichannel and multichannel.
But are they the same? it is not always easy to tell the difference between the two.
Before we clear the difference, here's a quick start:
 13% of online sales went up in Q1 of 2014 compared to Q1 of 2013 and are expected to quadruple in 2015 (according to Custora).
190% increase in sales of the shops that sell on more than one channel.
73% of shoppers use multiple channels before making a purchase.
What Is Omnichannel?
Where multiple Channel Strategy is defined as the process of selling the product by the use of two or more channels offering multiple sales avenues to shoppers including a mix of direct and indirect communication channels.
Similar to multi-channel retailing, Omnichannel retailing approach offers interacting with customers via various channels. But, differences between channels disappear as omnichannel retailing merges all the worlds of channels starting from your brick & mortar stores, comparison shopping engines, social media platforms like Facebook and Pinterest, eCommerce stores like Shopify, marketplaces like Amazon or Walmart, and mobile marketplaces, emails, and all channels to create an integrated and unified customers experience.
Omnichannel retail, in essence, is immersive as it creates seamless and more meaningful customer experiences that offer exactly what the customers need, anywhere, any time, and on any device.
One of the biggest challenges that lie in integrating different channels is the cost of investing in streamlining the customer journey.
A simple example of an omnichannel retailer is when you browse a website at your office searching for products using your laptop, place some of them in your online wishlist, then you order the selected products using your mobile at home.
Is Omni Channel the Same as Multi-Channel?
At first glance, the difference between these two strategies may not appear. And you could see the big mistakenly use of these terms interchangeably in the eCommerce world.
It is crucial for your business to have a deep understanding of the difference to improve the customer experience and optimize marketing to maximize sales.
The major difference between multichannel and omnichannel retailing is how businesses are able to interact with their customers across various channels. As a result, understanding customers' needs will improve their experience most effectively.
In the multi-channel approach, it is not necessary to match the customer's experience on one channel with their experience on another because each channel works separately and is managed in a unique manner, while the omnichannel approach integrates all the channels together and works like a single organism to provide a seamless, integrated experience.
Let us suppose the marketing as a wheel with spokes. Multichannel puts your product at the center of the wheel and all channels including your customers are on the outer rim of the wheel revolving around your product.
On the other hand, omnichannel puts your customer at the center of the wheel and all channels revolve around your customer.
Above all, we can summarize the difference in three main points:
1- channel and customer
While the multi-channel approach aims to expand your brand's reach to a multitude of channels and offers multiple sales avenues to shoppers to engage a large number of possible customers.
The omnichannel approach, on the other hand, focuses on customers' needs and creating a seamless and integrated experience.
2- Consistency
As multi-channel marketing where each channel operates separately, and each channel has its own experience, this may cause confusion and leave customers feeling frustrated.
On the contrary, omnichannel marketing focuses on the entire customer experience and how the channels work like a single organism to provide a consistent and unified experience instead of the customer's individual experiences on the different channels.
3- Personalization
The multi-channel approach drives the customers to take action with a subtle touch, while the omnichannel method makes more effort and seeks to know the customers and their impressions to deliver their desired customer experience.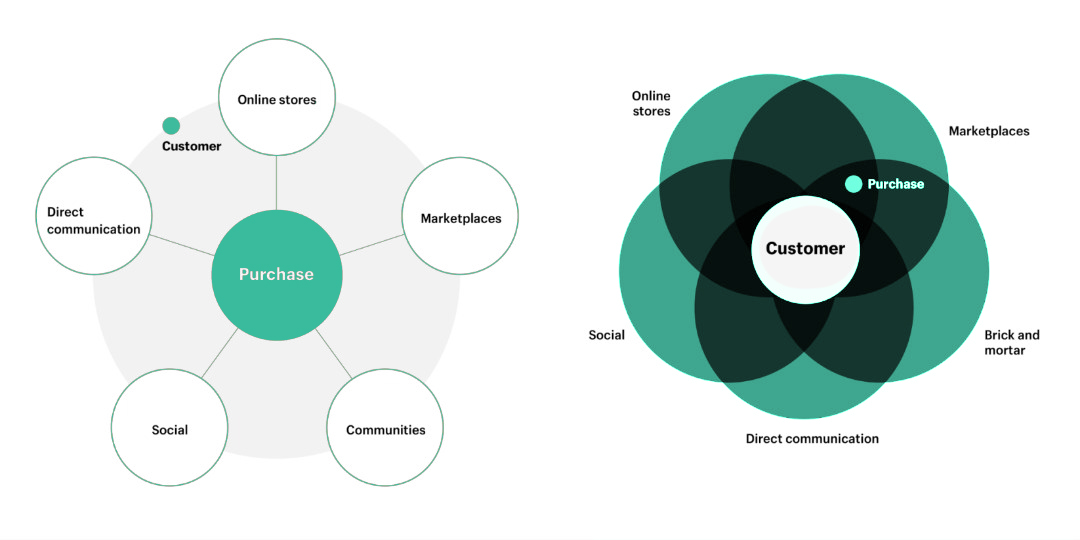 Omni-Channel For eCommerce
First of all, you need to keep in mind that efficient success requires one thing: that you're everywhere your customers are, not to be everywhere.
-Know your target market, identify where it is spending attention and time to insert your brand in.
-Form a branded experience by focusing on online touchpoints, devices being used, and geographic locations using advertising, commerce, SEO, and public relations.
Create powerful retargeting campaigns across channels and earn trust back by creating different cross-channel ad formats.
Identify which channels are utilized by your target customers typically to optimize your message on each device and each channel according to where your customers expect to see your brand.
In a nutshell, your essential focus should be how to provide the best customer experience ever, inspiring your shoppers to stick to your brand, not only purchasing but also to return back. As well as, keeping both productivity and customer satisfaction levels high, and reaching endless new customers.
Best Omni-Channel Platforms
Shopify is one of the pioneers of global eCommerce in the big eCommerce world, it is a cloud-based, multi-channel eCommerce platform.
Shopify has many features making it better than its competitors, and the pioneer in the use of the latest and most advanced Internet technology for website integrations.
It is fast and easy to install, helps you in optimizing your home page through its storefront design tools, promotions & discounts, recommendations and personalization, product catalog, order processing, reporting & analytics, and so on.
It also helps you optimize SEO, and customer support systems.
Magento is the most popular open-source eCommerce platform, owned by eBay, and holds 30% of the global market share.
Magento provides an efficient order fulfillment system that ensures a seamless customer experience. 
It is a great Omnichannel e-Commerce platform with many key features, such as real-time view of all inventory, order details' centralization across every channel, refunds and returns automation, flexible pricing for customer groups, flexible deployment, optimal UX, and more.
Magento also offers simple administration with SEO optimization to easily control and improve your shop.
BigCommerce is a leading omnichannel e-commerce platform that empowers companies of all sizes to build and grow their businesses online.
BigCommerce combines simplicity and ease-of-use performance with the enterprise-grade functionality.
BigCommerce also offers the features needed for an eCommerce site such as gift cards, product review, and tools to make your store a little more special.
BigCommerce also offers a set of key features needed for every eCommerce site that include easy storefront design Tools, promotions and discounts, product visualization, recommendations & personalization, product catalog, product search & filtering, content Management, order processing.
In addition to payment gateways integration, marketing tools, inventory management, shipping & warehousing, and SEO optimization.
NetSuite the first cloud computing software and an omnichannel eCommerce platform for small and medium-sized enterprises.
NetSuite offers many of cloud-based business management applications which support accounting capabilities (general ledger, accounts receivable, accounts payable, …etc.), human resource management (HR), e-commerce, product control, warehouse management, supply chain management, retail administration, enterprise resource planning (ERP), customer relationship management (CRM), and beyond.
NetSuite also offers analytics and reporting that provide real-time visibility for financial performance.
Conclusion
For businesses that are looking to boost their sales and get new channels, the omnichannel strategy is the only way to adapt to new consumer needs, and provide an excellent and seamless omnichannel customer experience they expect to be. It is a great strategy to increase efficiency, and address rising complexity in the e-commerce world.