Top 3PL Logistics Company in 2023

LAST UPDATE: OCT 15, 2022

8 minutes reading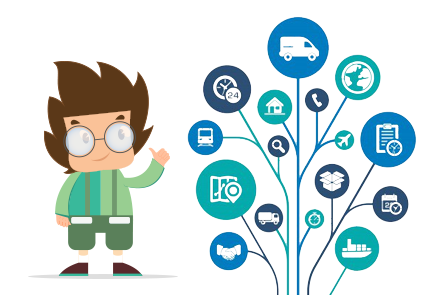 An internet business expansion delivers more benefits than just more sales and clientele. Most of the time, business owners must also deal with the challenges of increasing order fulfillment efforts to assure the timely delivery of goods and services even when order volume rises.  Here's where a third-party logistics company (3pl) can help.
Businesses can spend less time and money on the labor and technology needed for in-house fulfillment by collaborating with these logistics companies. Additionally, to further lower the costs of software implementation, these logistics company 3PL services consolidate the capabilities of warehouse management software and comparable solutions into a single platform.
What Are Third-Party Logistics Companies (3pl)?
A 3PL business is a third-party logistics company that handles your online order fulfillment on your behalf. As an online vendor, you will accept the orders while hiring a 3PL business to let someone else handle the rest.
Distribution, warehousing, fulfillment, and other facets of online sales will be handled by a third-party logistics company.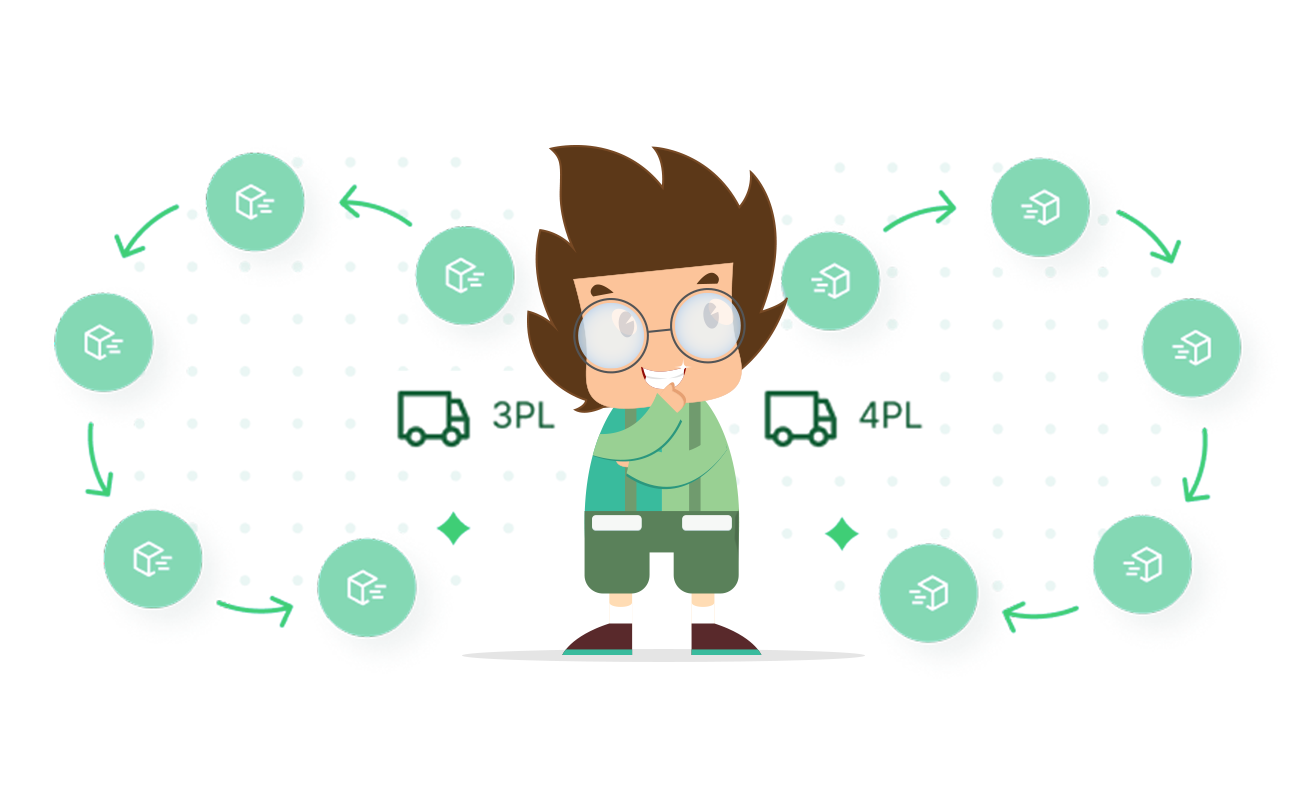 How Are 3PL and 4PL Businesses Different?
And now that you are aware of what a 3PL company is, you may have heard of and been curious about a 4PL company.
How then do 3PL and 4PL businesses differ?
A 4PL company, however, also performs a lot more than a 3PL company does! The 4PL firms also manage infrastructure, technology, and resources. For the benefit of the eCommerce merchant as a whole, they may even manage external 3PLs and aid those businesses in achieving their objectives.
Does Amazon Work as 3PL?
Despite Amazon not identifying itself as a 3PL company, Amazon offers several capabilities that 3PL companies provide. A 3PL company provides the Fulfillment by Amazon (FBA) services that the corporation provides to its marketplace vendors.
When a marketplace seller uses the FBA services, they will get help with customer care as well as warehousing, packing, and distribution of the goods. All of this is pretty comparable to what third-party logistics companies offer to owners of online stores.
Does FedEx Work as 3PL?
FedEx Fulfillment, a division of FedEx Corp., offers complete fulfillment services to small and medium-sized enterprises. These services are made to be modular and scalable, making them ideal for business owners seeking customizable shipping choices to meet their specific requirements.
For instance, company owners have a range of choices through FedEx Fulfillment to deliver their goods to FedEx's fulfillment facilities. FedEx provides one-time and recurring pick-ups for products to assist businesses in saving time and money on shipping.
Business owners can also decide to drop off goods at the open round-the-clock FedEx drop boxes. Additionally, FedEx Fulfillment provides the same flexibility in shipping with overnight, same-day, and two-day delivery options.
Does DHL Work as 3PL?
A global logistics company like Deutsche Post DHL can quickly convey your goods to their destinations!
Deutsche Post DHL's eCommerce Solutions division efficiently connects Europe to the rest of the world, ensuring that customers who purchase your products will get them fast, wherever they may be located.
Using Deutsche Post DHL for your logistics business has several advantages, some of which are as follows:
Range of products
Incredible client service
basic handling principles
Cheap prices
Best 3PL Companies
The 3PL companies that provide you with the greatest advantages are the best. They ought to be able to meet your needs and facilitate a smoother operation for your company.
You must first decide what qualities you are seeking in a third-party logistics company before you can locate these businesses. Here are a few things to think about:
What Services Do You Need?
You should consider every service that your potential 3PL offers. You should look for a company that specializes in warehousing if you only need help with that.
Do You Have Any Needs That Need Special Attention?
Perhaps you need to convey some things with extra security, or perhaps some shipments require unique packaging materials. As long as your Third-Party Logistics Company has dealt with situations similar to these in the past, they ought should be able to solve them without any trouble.
1. ShipBob
A next-generation shipping platform called ShipBob offers both large and small enterprises an all-in-one, straightforward, and reasonably priced end-to-end solution. Retailers can take advantage of the most complete and cost-effective shipping solution from ShipBob.
The following 3PL services are provided by ShipBob:
Receiving
Storge
Pick-and-pack
Standard shipping packaging
ShipBob is accessible both domestically and abroad and is compatible with the following integrations:
Shopify
BigCommerce
WooCommerce
Squarespace
ShipStation
eBay
Amazon
Walmart
APIs for ShipBob developers
2. WhiteBox
WhiteBox is the solution if your e-commerce business is looking for an all-in-one logistics provider. WhiteBox can manage all necessary tasks from your factory floor to your customer's front door.
WhiteBox provides a variety of services, some of which are listed below:
Applies shipping labels
Product description optimization
Professional photography for the products
Packaging
Shipping
Quality assurance
Inspection
Warehousing
Fulfillment
A solid option for small and medium-sized businesses is WhiteBox. 10% of total sales plus $3,000 are the fees this 3PL company charges.
3. Omni Logistics
Omni Logistics provides complete solutions for all sizes of e-commerce businesses.
You can trust Omni Logistics to manage all of your 3PL needs, including warehousing, distribution, freight forwarding, and everything in between.
You can use Omni Logistics' services for the following functions when you choose them as your 3PL company:
Shipping
Warehousing
Global distribution
Freight forwarding
And more!
The best part is that Omni Logistics has numerous locations worldwide and numerous distinct locations on different continents and areas, including:
The Americas
Latin America
Asia
Europe
4. FedEx Fulfillment
FedEx is not only a well-known name in the shipping sector for individuals sending personal items, but it is also a well-known shipping service for both small and large businesses.
FedEx Fulfillment provides all the logistics services a 3PL firm owner might ask for in an e-commerce setting, such as:
Packaging
Third-party warehouse management
Storage
Order fulfillment
Reverse logistics
Working with FedEx would appeal to small business owners since they provide excellent customer service and will guide you through the many logistics stages.
Pricing for many parts of logistics companies is determined by current rates, package size, and the number of units.
5. Shipwire
With more than 145 warehouses spread out over the world in places like Europe, Asia, Australia, and the United States, Shipwire has a significant global presence.
The same-day shipping option from Shipwire is one feature that sellers truly value. A subsidiary of Ingram Micro, Shipwire, aids in the provision of fulfillment and commerce services.
Owners of e-commerce websites can benefit from the following services through Shipwire:
Sell through retail
Commerce EDI
Global fulfillment
Drop shipping for retailers
6. Red Stag Fulfillment
A specialized e-commerce order fulfillment company, Red Stag Fulfillment is focused on dealing with merchants and e-commerce companies who send heavier and/or larger packages (usually weighing 20-150 pounds), as well as orders that need to be assembled or kitted before shipping.
Red Stag Fulfillment offers same-day order fulfillment with order cut-offs as late as 5 p.m. EST, low shipping rates, and round-the-clock video security on all fulfillment stages.
The cost varies according to the amount, weight, and services needed. Without any lengthy contracts or obligations, Red Stag Fulfillment only charges every month.
7. FreightPros
FreightPros is a shipping firm that many businesses utilize to make their deliveries happen if you need a logistics company that ships your goods across the country.
A freight management company called FreightPros can assist you in choosing the best shipping company for your particular needs by collaborating with a wide range of delivery companies.
For smaller firms that might not have as many shipments as their larger counterparts, FreightPros provides low costs, convenient access, and availability in addition to first-rate customer support.
8. Redhawk Logistics
Within the United States and Canada, Redhawk Logistics provides 3PL services. Although not international, this business can easily cross borders between these two nations and provide shipping services.
Redhawk Logistics provides the following services to its eCommerce clients, which are excellent for small businesses:
Freight services
Warehousing
Shipping
Distribution
9. DCL Logistics
Your logistics and fulfillment provider are DCL Logistics, situated in North America. DCL Logistical is well-positioned to assist you with your logistics needs with North American locations in Louisville, Silicon Valley, and Los Angeles.
DCL Logistics provides fulfillment, shipping, delivery, and other services.
If you ever want to expand your product offerings outside of the United States, DCL Logistics also provides a global fulfillment partnership.
10. Shiphero
Shiphero provides e-commerce companies with order fulfillment services in addition to a platform for managing warehouses. Shiphero assists business owners in selecting the most effective strategy for distributing goods around the company's network of warehouses by using data from sales forecasting and sales history.
Additionally, orders are sent to the closest warehouse for fulfillment before being delivered by national, regional, and local carriers. Owners of businesses avoid shipment delays and lower consumer complaints as a result.
Who Is the Biggest Logistics Company in World?
As it began in a simpler form in antiquity and is still utilized today, logistics and distribution are complicated and sophisticated methods today. Additionally, looking for innovative technology to speed up and simplify procedures The revenue of the companies changes as they expand.
United Parcel Service (UPS)
Founded in the United States and business for more than a century, UPS is a parcel delivery service. UPS works in a variety of industries, including shipping, air freight, trucking, last-mile distribution, and drone delivery. The business got its start in 1907 in Seattle as a tiny messenger service for $100.
In addition, UPS runs distribution and warehouse facilities totaling more than 35 million square feet in more than 1,000 locations throughout 120 different nations, covering over 220 countries and territories.
Revenue: $74.969 billion
Headquarters: Atlanta, Georgia, USA
Choosing to use a 3PL business to help you manage your orders is a smart choice, regardless of whether you sell electronics, clothing, or any other type of eCommerce product.
When you work with a logistics business, you can be sure that your orders will be processed fast, sent securely, and delivered correctly to your customers.
Inventory Management Integrations for Commerce Entrepreneurs
3PL firms including NorthStar Automation, VeraCore, dsco, and Shippo are integrated with New G Solution. To simplify your supply chain, we provide you with seamless management over stock transfers between your warehouses. Take advantage of convenient inventory management through various storage facilities, and control the order fulfillment process from picking to packing to shipping to receiving. Contact us