Full Guide About Direct to Consumer (D2C) eCommerce

LAST UPDATE: SEP 29, 2022
8

minutes reading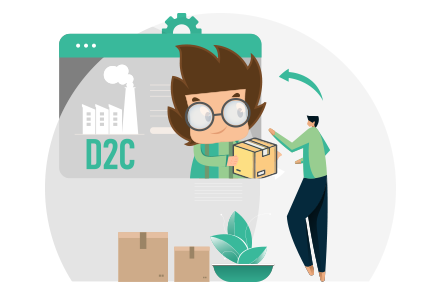 Retail behemoths like Walmart, Target, and Amazon may come to mind when you think about eCommerce these businesses controlled the market for many years.
This is now steadily altering. D2C commerce has surged in popularity over the past several years and is disrupting the way that people shop.
But what does D2C eCommerce mean? What distinguishes it from retail eCommerce? And why should firms think about using this strategy?
This blog will explain D2C eCommerce and how to launch or expand a D2C business. Let's begin
What is D2C eCommerce?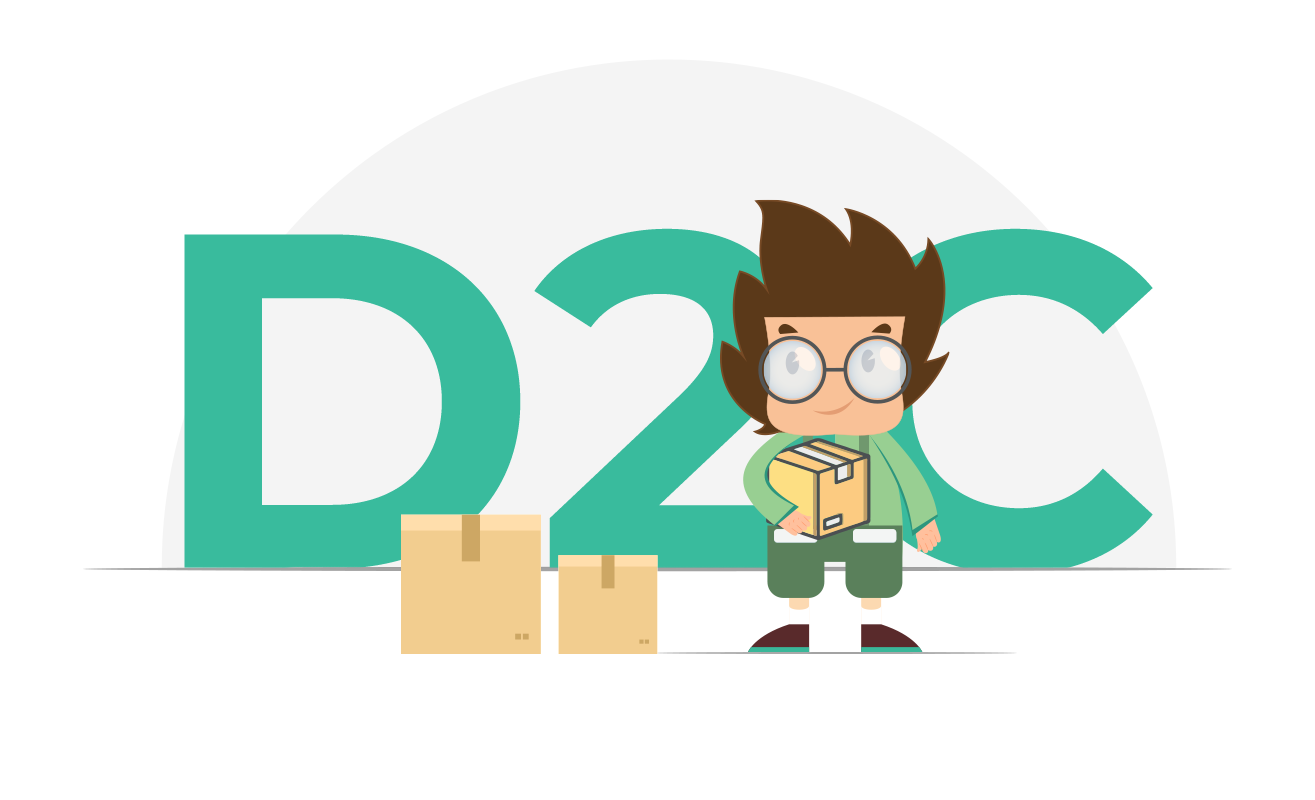 Direct-to-Consumer eCommerce entails businesses producing and distributing their products directly to customers, as opposed to traditional retail establishments, which rely on intermediaries or third parties.
Companies own the consumer journey in this useful paradigm. In the D2C eCommerce model, brands are responsible for marketing, sales, distribution, and the customer experience in addition to product manufacture.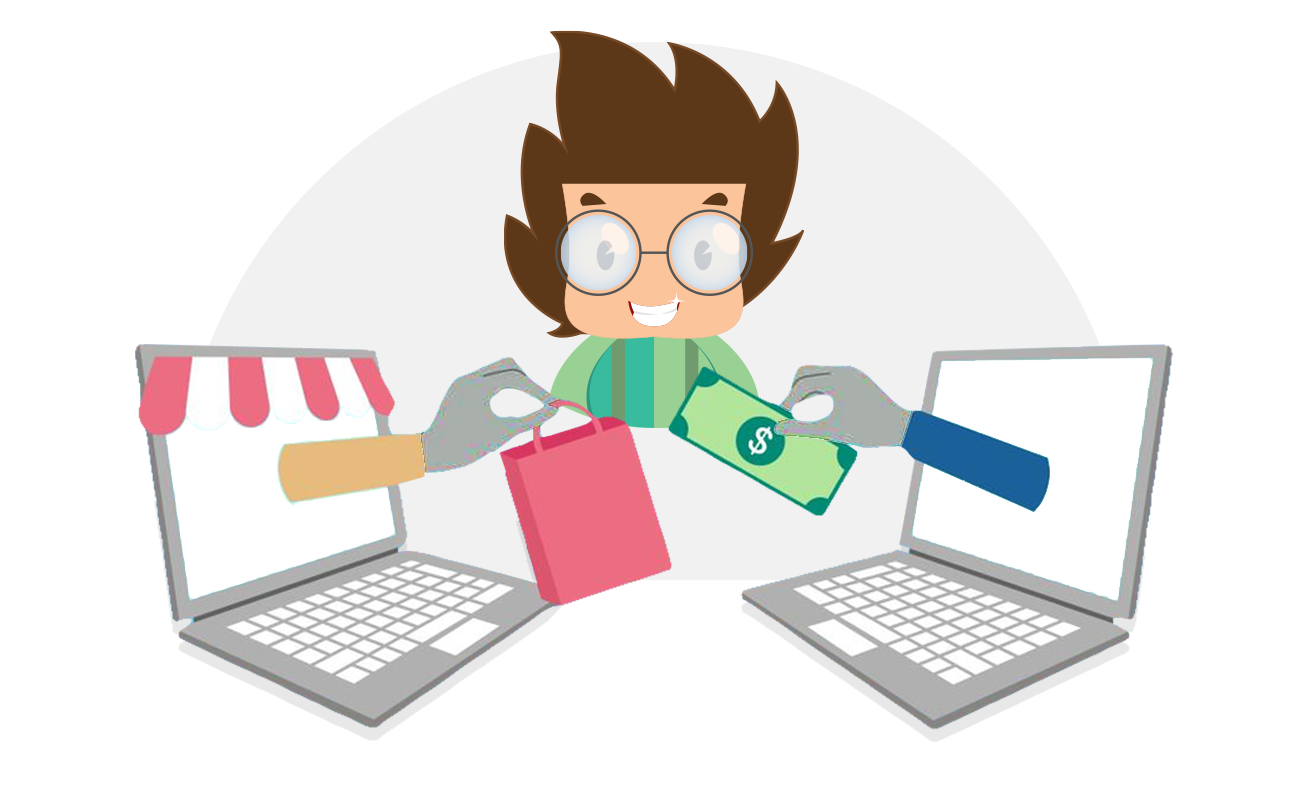 How Does D2C eCommerce Work?
Direct to consumer eCommerce (D2C) relies on a product maker or producer to establish an online channel for buyers to purchase the goods directly. By placing an order through this channel, the buyer stays out of the middle and eliminates the need for any other parties, such as distributors or retailers, who would raise the cost and administration of the transaction and introduce their priorities for the brand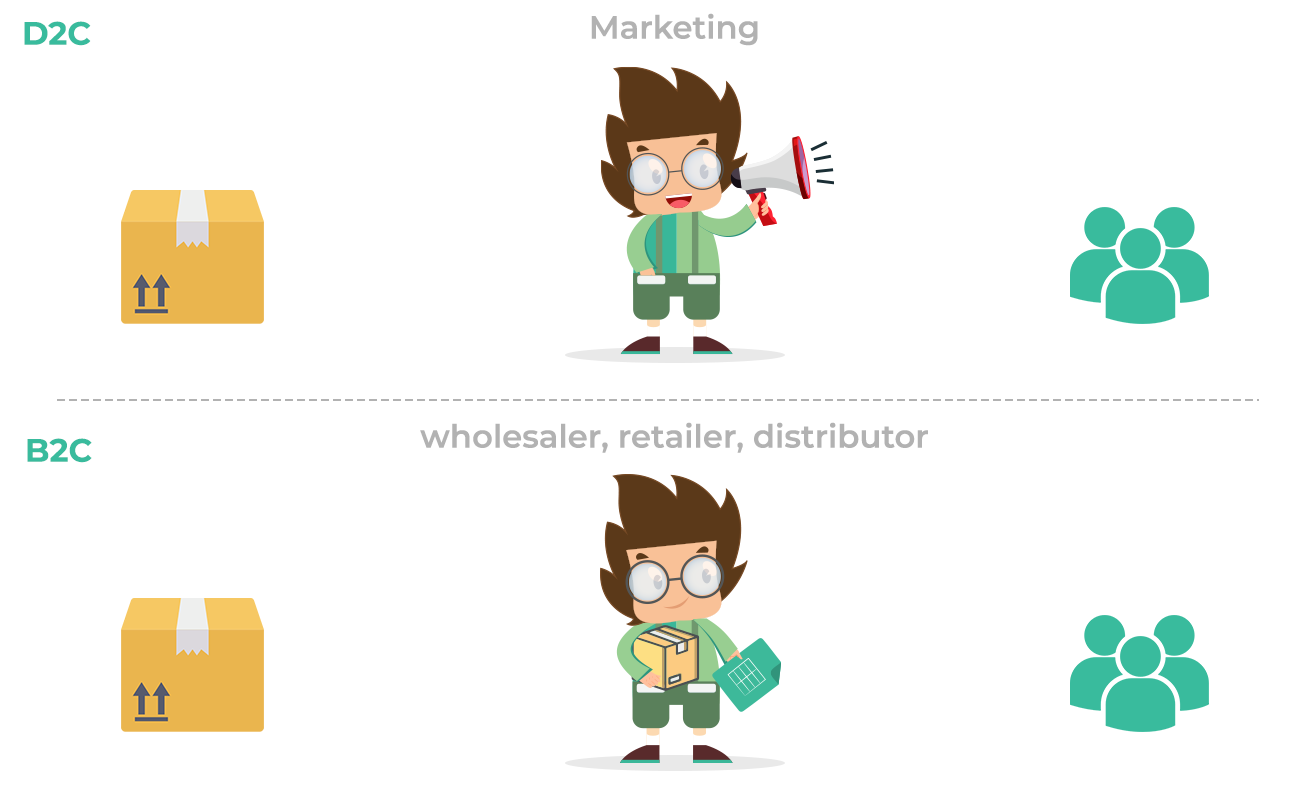 What Is the Difference Between D2C, B2C and other Traditional Models?
Despite their similarities, the business models for D2C and B2C eCommerce are structurally different. D2C sells directly to the customer, just as it says on the tin.
Contrarily, the B2C model refers to any "company" that sells to consumers. Typically, this "business" is a wholesaler or retailer, which is a few stages distant from the product's maker.
The D2C approach is typically more "transactional," where the customer buys directly with the idea that it is a more affordable, effective way to obtain what they want to buy. A B2C model is more concerned with establishing long-term connections with customers and winning their loyalty.
It is also more likely to provide a more complex experience, most certainly at a greater cost.
D2C eCommerce Differs from The Conventional Store Business Model in Several Ways
A typical business strategy comprises bulk purchases where products are delivered to retailers through wholesalers and distributors as opposed to a D2C eCommerce approach, which involves companies selling directly to consumers. Other significant variations include:
Factor

Traditional Retailer

Direct-to-consumer (D2C)

 

Relations With Clients

Due to the involvement of several parties, relationships with customers are not direct.

no intermediary direct interaction with clients

 

Brand Management

There are many parties involved, thus there is less direct communication between the maker and the consumer as a result.

Customers can communicate directly with brands, which gives them direct control over marketing and branding.

Pricing

Because clients cannot be offered a subscription under the traditional approach, revenue is inconsistent.

The D2C model frequently uses subscription-based pricing, providing a steady income.

 

Digital Marketing

Because most of the traditional model's sales are made through brick-and-mortar locations, it may or may not rely on digital advertising and traffic.

The D2C business model mainly depends on online traffic and advertising.

 

Personalization

The traditional retail business model cannot gather data and customize its services.

D2C brands have extensive access to user data because they operate online. This enables extreme customization.

 

Profits

The earnings are decreased when middlemen are used.

Due to the absence of external stakeholders, D2C has a higher chance of being profitable.
Pros and cons of D2C eCommerce
D2C e-commerce removes the intermediary, giving brands more control over their fulfillment and distribution. D2C has a lot of benefits, but it also has some drawbacks.
D2C eCommerce Pros
1. Increased Brand Independence
You have complete control over your brand's reputation, distribution networks, and consumer involvement with D2C e-commerce. In other words, a retailer's performance cannot have an impact on how consumers perceive your brand. Since you're selling directly to the customer, you can manage your reputation successfully by adhering to the branding guidelines you've established. As a result, you eventually have more control over your margins.
2. Building Links Between Brands and Consumers
Direct to consumer (D2C) e-commerce enables you to communicate with clients, which improves your rapport with them using email, social media, and even phone conversations. Additionally, you can obtain exclusive customer data that will help you better understand them and inform your manufacturing and marketing choices.
3. Improved Omnichannel Interactions
You can make sure that customer experiences are consistent and coherent across a variety of channels because you have complete control over the various touchpoints. Through SEO, a website, packaging, social media, or even print media, you can now create a consistent omnichannel experience.
D2C eCommerce Cons
1.  A Fierce Rivalry
Competing with big-box stores that have a well-established eCommerce presence, like Amazon or Walmart, is a significant challenge. As a result, you can find it difficult to establish your credibility and win your target audience's trust. Additionally, it could be difficult to meet the quick and economical shipping criteria that have been established by major retailers.
2. The Need to Multitask
You can no longer just concentrate on product manufacture in D2C eCommerce. You are now responsible for managing numerous other tasks like marketing, sales, and fulfillment. To handle some of these tasks, it's critical to choose a dependable service partner and a solid software solution. You can depend on New G Solution which will help you manage your business through 6 major features
3. Altering Consumer Behavior
Customers now consider shopping from a variety of venues, such as websites, apps, social media, and more. If D2C brands aren't willing to frequently adopt new channels, this may be challenging.
Examples of D2C eCommerce: Who Uses This Model?
Today, the D2C eCommerce model is being used globally for a variety of purposes and with various value propositions. For instance:
According to reports, Warby Parker is the first company to use the D2C business model to great success. In the US, where pricey spectacles were the norm, the company won over customers by offering low-cost, superior goods that were created and produced there.
The business was also successful in social media marketing. Customers could order things to simply try them on, and if they posted an Instagram photo of themselves wearing the item with a specific hashtag, Warby Parker would reply with styling tips.
The current market value of Allbirds, a very dynamic D2C brand, is 4.1 billion USD. Natural materials including merino wool, eucalyptus fiber, and sugar cane are used in the production of eco-friendly and cozy shoes by Allbirds.
The Allbirds founders decided to only sell their products online and refrain from switching out models every season when they first started their company. Since Allbirds doesn't invest time or money in retailing or advertising, they can concentrate on creating the highest-quality sneakers. Additionally, they mostly use Facebook and Instagram as channels for clients to get in touch with them.
Another New York-based firm that has gained notoriety is Casper, which sells high-quality mattresses and bedding. Casper achieved astonishing revenues of approximately USD 90,000 in just two years and will be the first D2C company to go public in 2020.
Casper concentrates on digital strategy, creating chatbots and sleep tracker apps to support sleep and engage with clients by disseminating basic information about sleep.
Additionally, by employing a variety of strategies in its sales approach, including a minimalist product selection that is simple to select, the use of influencers to project a fashionable image, and free 100-day returns, the company has produced notable results in a short amount of time.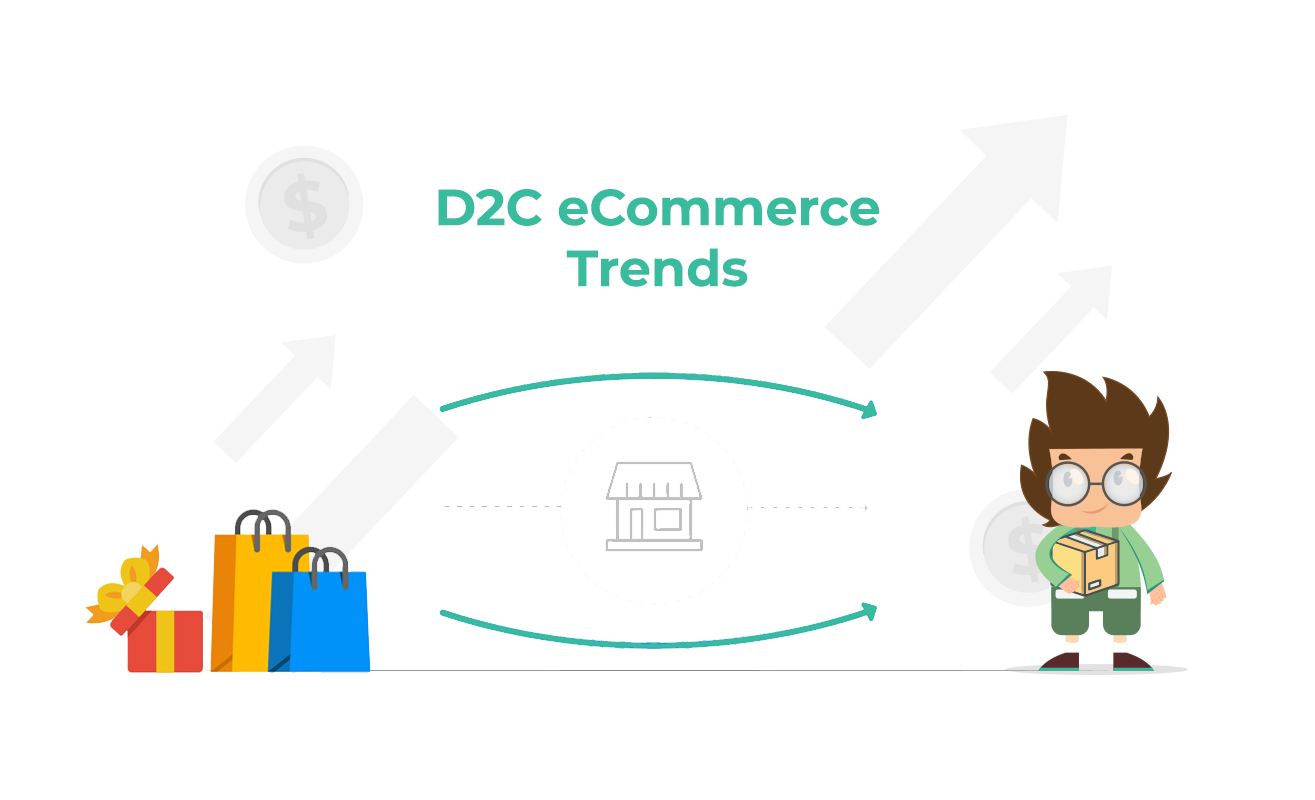 Which D2C eCommerce Trends Are Now Popular?
Lockdowns and retail closures caused by the pandemic have accelerated digital commerce, driving customers to switch to online shopping. As a result, producers have rethought the best way to deliver their goods to customers.
D2C sales as a result exceeded US$111 billion through 2020 and are anticipated to increase to around US$175 billion by 2023.
Millennials and Gen Z are driving the trend since they are the most likely to only use direct-to-consumer channels.
What Software Am I Going to Need for D2C eCommerce?
Similar to B2C, D2C eCommerce requires the use of the software. In most cases, a company would prefer to invest in an  eCommerce solution that supports both its online brand and customer journey.
The next step is to make sure the customer has a seamless experience with the payment processes. The company will require software to support its ability to track sales, handle inventory demands, and deliver its goods in the backend.
For Example, a typical D2C tech stack might include:
Shopify is a platform for online stores.
a website using a WordPress theme that is powered by a web host like Bluehost.
New G Solution to manage purchasing, manufacturing, and avoid inventory problems between the eCommerce store and traditional channels.
What Does the Future of D2C eCommerce Look Like?
The future is D2C. especially if supply lines are constantly experiencing disruptions. D2C e-commerce will become more popular among manufacturers as a direct-to-consumer sales channel.
Also you can read more the B2B Complete Guide for 2022 Examples, Strategies
Get Started Today
Is D2C something you plan to prioritize in the upcoming years? A New G solution is on hand to assist. We can collaborate with your team to develop a solid D2C eCommerce strategy. Our team will give you the information you need to be successful in this new industry, from evaluating your existing customer experience to making sure you have the proper technologies in place to deliver. Start your free trail now !